POWERSPORTS BATTERIES
Yuasa supplies powersports batteries to more OEM's than all our competitors combined in the US and globally. The reason is simple: premium quality, unmatched reliability, long life, and advanced engineering with years of application expertise. View our full range of high-performance powersports batteries for motorcycles, ATVs, UTVs, snowmobiles, personal watercraft, scooters, and more.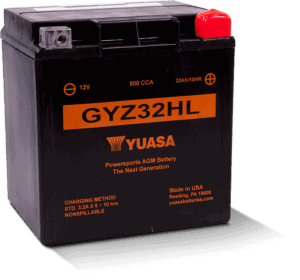 GYZ Series Batteries
Yuasa's elite performer, the GYZ series, has more cranking amps and higher amp hour capacity for years of trustworthy service.
More amp hours to support more accessories
Highest CCA motorcycle and ATV battery (500 CCA* from GYZ32HL)
Factory Activated, maintenance-free AGM
Large, heavy-duty flush terminals with multiple connections (GYZ32HL, GYZ20HL, GYZ20H)
Built in brass nuts (GYZ32HL, GYZ20H, GYZ20HL, GYZ16HL)
Increased starting performance in cold weather
YTZ Series Batteries
Yuasa's high performance AGM battery. Huge power in a small, lightweight package.
YTZ Series Batteries Yuasa's high performance AGM battery. Huge power in a small, lightweight package.
High CCA, more capacity, minimum space
Enhanced capacity recovery
Expanded grid design for superior reliability
Ideal for sport-bike applications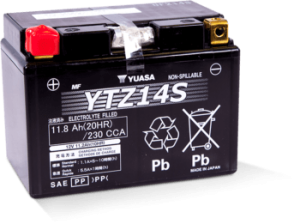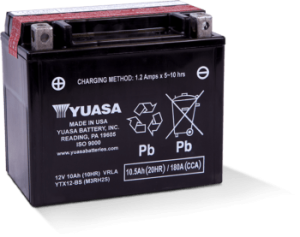 AGM (Maintenance) Batteries
Durable construction and tough AGM design means your battery is ready when you are.
Absorbed Glass Mat (AGM) batteries look different from typical powersports battery types because they are built differently. This advanced battery design eliminates water loss. Once these batteries are filled with acid, you'll never need to fill it with water or check the acid level. This specific line is optimized to run strong without maintenance. Essentially this is the ultimate "set it and forget it" battery.
No Maintenance and No Risk
This AGM battery line is virtually maintenance free. All of the acid is absorbed in the special plates and separators, so you never need to worry about acid leaks harmful acid leaks. This proves especially crucial for vehicles where acid leaks could occur such as ATVs, watercraft, and motorcycles.
Ideal for Long Term Storage
This AGM battery line is ideal for seasonally-used vehicles such as watercraft and snowmobiles. While a long term storage kills lesser batteries, this powerful line runs strong when you need it, despite the time off.
Long Lifespan
Because of its lead calcium design, the AGM battery will hold its specific gravity more than three times longer than conventional lead antimony types. And to remain factory-fresh the AGM battery is shipped dry along with its own pack of high-gravity acid that's added at the time of installation.
Yumicron/Conventional Batteries
Engineered to protect against corrosion, withstand vibration, and deliver more cranking power.
Not all vehicles require an AGM battery—yet Yuasa still has the solution. Simple and efficient, Yuasa's line of conventional batteries carry the unparalleled quality of any battery bearing the Yuasa name.
Yumicron (High Performance)
YB / Y50 / Y60
---
Heat Sealed Case
Protects against seepage and corrosion
Special Thin Separators
Provides high cranking power
Heavy-Duty Glass Mat
Resists shredding of active material even under severe vibration
Conventional
6n / 12N
---
Special Thin Separators
Provides high cranking power
Engineered to Protect
Engineered to protect against corrosion, withstand vibration, and deliver high cranking power
6 Volt and 12 Volt Varieties