Yuasa Yamaha/Honda (AGM) OEM Replacement Battery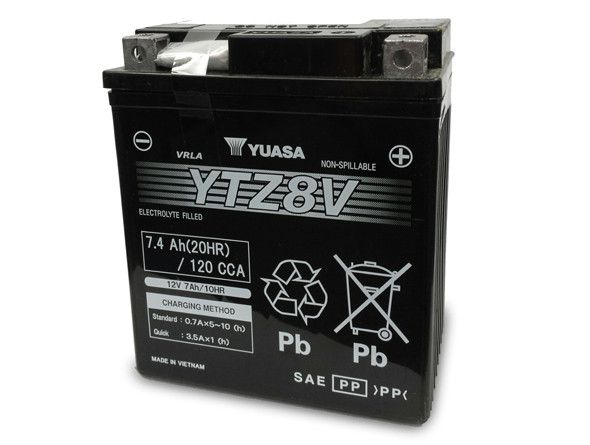 Yuasa Battery Inc., the worldwide leader in powersports batteries, has introduced the Yuasa YTZ8V battery, an absorbed glass mat (AGM) battery designed to replace the original equipment battery in the 2015 Yamaha YZF-R3 sportbike and the 2015 Honda PCX150 scooter.
Measuring 4-7/16 inches x 2-3/4 inches x 5-1/8 inches (113mm x 70mm x 130mm) and weighing 6.0 lbs. (2.7 kg) while providing 120 CCA, the Yuasa YTZ8V battery provides increased power in a small, lightweight size.
The Yuasa YTZ8V battery is 12 volts, rated at 7 AH. The battery is factory activated and maintenance free.
The AGM technology used in the YTZ8V is an advanced battery design that eliminates water loss. Because of its lead calcium design, an AGM battery will hold its specific gravity more than three times longer than conventional lead antimony types. This means much longer periods between charges when the battery is used less frequently, such as winter storage.
The Yuasa YTZ8V AGM battery is shipped factory activated, which means it does not require filling before installation. An extensive activation process ensures complete absorption of the electrolyte so no liquid acid is contained within the battery. This process allows these batteries to be shipped from the factory ready to install. Also, since the electrolyte is absorbed in the special plates and separators, there is no need to worry about leaks on the valuable vehicle parts and accessories.
Yuasa Battery, Inc. is a premier manufacturer of powersports batteries in the United States. Due to the proven quality and reputation established over several decades, Yuasa is the leading supplier of batteries to the leading original equipment manufacturers, distributors and dealers throughout the world.