Post Number Yuasa Battery Chargers/Maintainers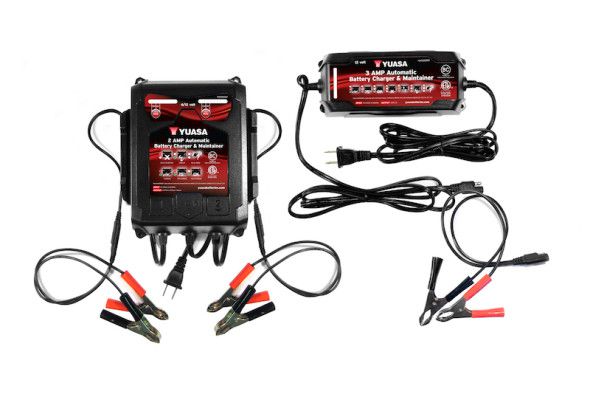 Yuasa Press Release:
With the goal to help powersports vehicle owners get the maximum service life out of their batteries, Yuasa Battery, Inc., the worldwide leader in powersports batteries, has introduced two automatic battery chargers/maintainers designed specifically for today's generation of advanced absorbed glass mat (AGM) batteries.
The two chargers – an easy-to-use 3-amp model and a 2-amp model that can service multiple batteries at the same time – both feature an OEM approved five-stage charging algorithm that saves time and energy, while ensuring the battery is properly and fully charged. While the chargers are optimized for newer AGM style batteries, they are still compatible with conventional flooded batteries.
"Proper maintenance of a powersports battery is important to achieve the maximum service life," said AyKaun Okuma, senior director – aftermarket, for Yuasa Battery, Inc. "As the leading provider of original equipment batteries to the powersports industry, we know the proper algorithm to provide the battery with exactly the right charging rate. We feel it is important to not only provide the best batteries, but also the tools to help our customers get the most out of them."
The Yuasa 2-amp Automatic Battery Charger & Maintainer has two independent charging stations to allow for simultaneous servicing of multiple batteries. The Yuasa 2-amp Automatic Battery Charger & Maintainer also can service either 6- or 12-volt batteries.
The Yuasa 3-amp Automatic Battery Charger & Maintainer is designed to be easy to use – the user simply needs to plug the charger in to a wall outlet and attach it to the battery. The charger/maintainer automatically charges the battery using the five-stage charging algorithm, then maintains the battery in a fully charged state so it's ready to use.
Both battery chargers/maintainers also have a feature that allows for the recovery of sulfated batteries, and defective battery detection to help diagnose internal battery issues. The charger/maintainers come with quick connect cables and alligator clips (6 ft. total) and feature a five-year warranty.